Small, medium – complex – and large series production
ACTIA's complete EMS offer benefits from the group's historical expertise in the Automotive markets, enriched by a certain experience in equally demanding markets such as aeronautics, space, railways, home automation or energy. ACTIA's industrial capacities allow it to address small, medium – complex series – and large series production.
ACTIA's Manufacturing Services operate in a certified industrial environment. The group's industrial facilities are driven by the innovations of the Factory of the Future in a permanent concern for sustainable development and in line with the company's Corporate Social Responsibility policy. The structuring World Class Manufacturing program ensures that the standards of industrial excellence are respected and maintained on all the ACTIA group's production sites.
ACTIA'S MANUFACTURING SERVICES OFFER
ORIGINAL DESIGN MANUFACTURING
With its engineering know-how, ACTIA intervenes quickly and upstream to support its customers' product and system developments: routing assistance, placement, technological choices, design and production process matching. IPC standards are taken into account from the board design stage.
Quality, manufacturability, testability, etc. can be optimized upstream from the design phase. For this purpose, ACTIA offers a complete DFx (Design for Manufacturing, Design for Test, Design for Assembly…) offer which benefits from all the feedback of ACTIA's experience as an electronic equipment manufacturer and is based on a set of computer tools ensuring the exhaustiveness and repeatability of the analyses that are carried out.
All the processes and technologies of electronic board assembly, leaded or lead-free reflow, glue application, X-ray, multipurpose wave soldering or selective soldering, robotized or manual selective varnishing are mastered.
The production strategy of assembled and tested elements is modular. ACTIA offers a wide range of solutions, from the line dedicated to one product to the flexible multi-product cell.
TESTING & BURN IN TESTING
The test strategy is elaborated from the first design phases. It is enriched by the results of the FMEAs with the aim of monitoring production and offering all the guarantees to customers. It is based on AOI, mobile probe testers, ICT and functional testers, VRT thermal chambers. ACTIA develops dedicated functional testers and deploys a new generation of testers for its industrial excellence.
ACTIA's logistics know-how covers all cycles: procurement, transport, customs, regular and ad hoc flows, Vendor Management Inventory (consigned stock). Dedicated teams manage the entire supply chain from the various production sites to the front office (sales, scheduling) and to the customers or their customers. Since 2011, we are certified Authorized Economic Operator (AEO).
ACTIA's international footprint allows for close proximity to global markets. The large volumes of purchases negotiated with distributors and manufacturers ensure a high level of competitiveness on the various markets addressed. ACTIA intervenes in multi sourcing to find alternative sources, particularly in the context of its services in Operational Maintenance and in critical supply contexts.
ACTIA'S KNOW-HOW IN FUNCTIONAL TESTERS
ANGSTROM – for ACTIA Next Generation System Tester ROadMap – is a platform of latest generation functional testers developed by ACTIA to serve its industrial excellence. Based on standard bricks and totally modular and scalable, this platform strengthens the efficiency and productivity of the group's production testing resources.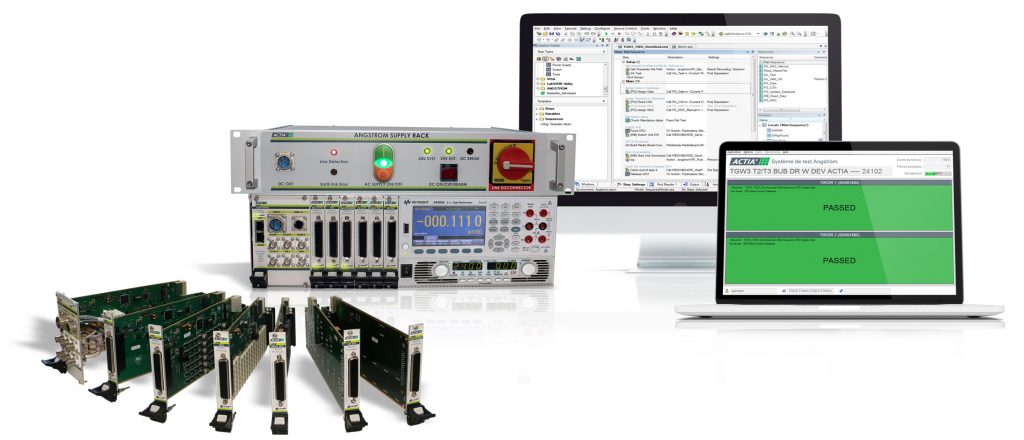 ACTIA'S TESTING KNOW-HOW GUARANTEES A VERY HIGH LEVEL OF INDUSTRIAL EXPERTISE
In support of its manufacturing services offer, ACTIA has a department specialized in the design, development, implementation and technical evolution of test tools to control the hardware and software conformity of products manufactured on its production lines in all the group's industrial sites.
SIGNIFICANT GAINS IN THE INDUSTRIALIZATION PHASE AND THROUGHOUT THE PRODUCT LIFE CYCLE
The ANGSTROM platform allows us to intervene upstream to accelerate development and make product maturity more reliable. The time saved in these phases is invaluable, especially when it is accompanied by greater security in the subsequent phases of production and maintenance in operational condition.
In addition to manufacturing services, ACTIA offers a complete range of electronic services to secure, make reliable and control industrial costs in time.
For more information, our team is at your service to answer you as soon as possible.